Like a self-fulling prophecy, the price of Bitcoin Futures listed by the CBOE soared on its debut last night because… Bitcoin Futures are now a reality. Bitcoin futures spiked as much as 26% before coming down to finish up +18% gain on their first day. One of our followers on Twitter summed out the peculiar-ness about it all.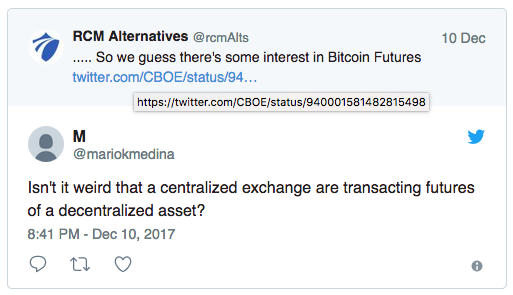 In the first two hours of trading, there were roughly 800 contracts traded per the CBOE.
How does this scale compare to other launches? CBOE's Director of Education Russell Rhoads says Bitcoin Futures had a better first day than the first day of the now insanely successful VIX futures.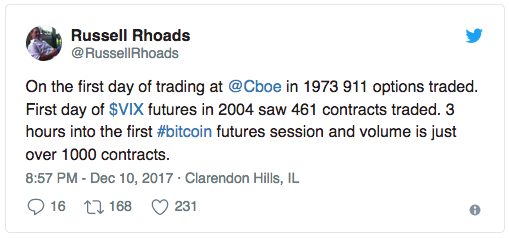 The number is now roughly 3,700 contracts, per the Cboe website. With the Bitcoin craze now intersecting with the futures market, there's apt to be some confusion out there on exactly how futures markets work. Sure enough, enter Bloomberg Gadfly with their explanation of Bitcoin futures first night.
First, they conflate Wall Street with LaSalle street, saying Bitcoin has entered "Wall Street's established futures market". Not a huge deal, but hey, we're proud of our futures markets here in Chicago… let us have some props in relation to Wall Street every now and then. But the more worrying thing is the perception that the futures prices are somehow a 'guess' of where prices will be in 4-24 weeks.
Source: seekingalpha.com
Author: Jeff Malec